HOW TO START A TRUCKING COMPANY IN THE USA
27.04.2022
2022-10-17 21:14
HOW TO START A TRUCKING COMPANY IN THE USA
HOW TO START A TRUCKING COMPANY IN THE USA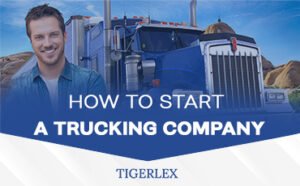 HOW TO START A TRUCKING COMPANY IN THE USA is a complete course on starting a trucking business. Starting a trucking business requires careful planning and preparation. You will learn how to open a company and bank account in the USA. On your own or with the help of an accountant
During the training, we will tell you what documentation is required to open a transport business in the United States. What documents and permits are needed to start in the trucking industry. Step-by-step instruction
Let's talk in detail about how to find customers. How to find reliable partners and clients who will provide you with work and stable income. How and where to look for regular customers.
The transportation business is a huge US industry. Nearly 71% of trucking in America and 6% of all jobs in the country are in the trucking industry, with 8% of total jobs in the largest companies in the world.
Tigerlex is a transportation consulting agency that can help you succeed in the transportation industry. We will help you achieve your goal of maximizing profits and running your business to its maximum potential. The transport academy will show you how to create your transport company, train you and help you in your daily work. We will provide you with the resources and tools you need to succeed in the transportation industry. Our services are highly appreciated by our clients.
Course structure:
– 10 complete Safety Manager modules
– Support in the form of consultations from a personal Safety Manager USA
– Access to materials with useful contacts and necessary information
Our students pass an exam after training and receive an official certificate.